Erik Janssen - Associate Conductor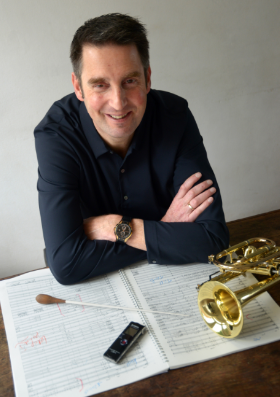 Having studied the trumpet at the Amsterdam University of the Arts (Conservatorium van Amsterdam) with Peter Masseurs and conducting with Danny Oosterman, Erik started his career as a freelance trumpet player Erik has performed with the Dutch Philharmonic Symphony Orchestra, Royal Ballet Orchestra, Amsterdam Wind Orchestra, All dutch student orchestra's to name but a few.
Over the years Erik has conducted a variety of ensembles from symphony orchestras, bigbands, musicals to wind bands and he has given master classes at the Conservatorium of Amsterdam and the Hanze Prince Claus Conservatoire, Groningen.
An accomplished brass band conductor, Erik has conducted 5 times at the European Brass Band Championships winning the own choice performance section with Brassband Schoonhoven in 2012 with 99 points, the highest ever achieved. Eric also enjoyed a number of other successes as conductor of Brassband Schoonhoven and between 2010 and 2013 achieved the unique feat of winning all the contests in the Netherlands and Belgium where they competed. Erik has been invited to guest conduct and adjudicate a lot through Europe.
Between 2006 and 2016, Erik was the conductor of the prestigious Koninklijke Marechaussee military band and is now the current Musical Director of Brassband "de Spijkerpakkenband", Koninklijke Harmoniekapel Delft and "Het Noord Nederland Jeugd Orkest"  (North Netherlands Youth Windorchestra).
During his career Erik's musical talent has taken him all over the world and has meant that he has performed at some of the most prestigious venues such as the Royal Albert Hall in London. In May 2016 Erik has been invited to conduct the European Youth Brass Band in Lille, France. Erik works as Artistic Director at Molenaar edition Music publishers.
Erik conducted the Band in 2016 and achieved immediate success by winning the Grand Shield in Blackpool and qualified the band for the Open where he took the band again.

For more information on Erik, please visit his website https://www.erik-janssen.com