Luc Vertommen - Professional Conductor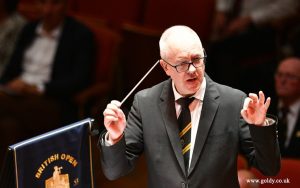 Dr.Luc Vertommen was born in Leest (Mechelen) where he made his first acquaintance with (wind) music through the local fanfare band. He studied cornet, music theory and piano at the music academies in Mechelen and Willebroek. Further musical studies were completed with a triple diploma – trumpet, music history and band conducting at the Lemmensinstitute in Louvain.
He also obtained a first prize in chamber music at the Royal Conservatory in Brussels, a master degree for conducting and Doctor of Musical Arts (2011) at Salford University, Manchester, (UK). He has immersed himself full-time in the world of band music as a brass teacher, player, conductor, arranger and writer. He conducts Brass Band Gent (Belgium), the Hauts-de-France Brass Band (France), 3BA Band (Germany) and is head of music school in Deurne (Antwerp).
He can be heard on more than 35 highly acclaimed CD recordings and is editor and artistic director of Band Press VOF. He regularly is invited to conduct or adjudicate around Europe and obtained the International Buma Brass Award 2014 for his international work within the band movement. Luc's association with Carlton Main Frickley Brass Band began at the British Open Brass Band Championships at the Birmingham Symphony Hall in 2018, where he led the Band on Bert Appermont's composition, A Brussels Requiem. Luc will continue his work with Carlton Main in 2019, leading the Band at the prestigious British Open Brass Band Championships once again and also to the National Championships of Great Britain held at the Royal Albert Hall in October. His interest for the past and for band history started a series of books and CD recordings. For this Anthology of Flemish Band Music he received the Fugue-Trophy by Sabam (the Belgian authors right association) in 2011.
He unearthed many pages and hours of original music by Belgian composers and his interest for the future is shown in his collaboration with many contemporary composers. At the moment he is completing a doctorate at Brussels Conservatoire about unearthing the original repertoire of the synthétists for wind band. As an arranger some of his arrangements (especially those made for fanfare band and brass band) are played worldwide.