Frickley Luc forward to the Open
We are pleased to announce that Luc Vertommen will be stepping into the bandroom once again to work with the band at the upcoming British Open and National Finals of Great Britain.
After adjudicating the band at last year's French Open Championships, Luc offered his services to the band and led them at the British Open. Luc's musicality and leadership meant that he was the obvious choice to lead us at this year's Open and Nationals.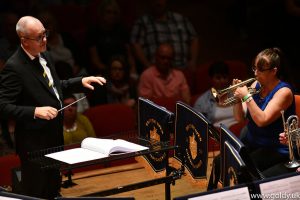 Dr. Luc Vertommen was born in Leest (Mechelen) where he made his first acquaintance with (wind) music through the local fanfare band. He studied cornet, music theory and piano at the music academies in Mechelen and Willebroek. Further musical studies were completed with a triple diploma – trumpet, music history and band conducting at the Lemmensinstitute in Louvain. He also obtained a first prize in chamber music at the Royal Conservatory in Brussels, a master degree for conducting and Doctor of Musical Arts (2011) at Salford University, Manchester, (UK). He has immersed himself full-time in the world of band music as a brass teacher, player, conductor, arranger and writer. As an arranger some of his arrangements (especially those made for fanfare band and brass band) are played worldwide.
He conducts Brass Band Buizingen (Belgium), Brass Band Nord-pas de Calais (France) and is head of music school in Deurne (Antwerp).
To find out where you can see the band next please visit our events page: http://www.carltonmain.co.uk/events-list/
Back to news