We are proud to welcome Lucy Heeley to the ranks!
We are proud to welcome Lucy Heeley to the ranks!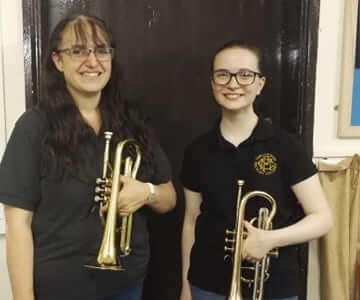 Lucy first came down to the band in December and instantly blew the band away with her talent at such a young age. She was quickly taken under the wing of our very own Kirsty Abbotts and has continued working with the band at numerous events, most recently at the Brasspass.TV Band of the Year Contest. We have been amazed not only by Lucy's talent, but her commitment to the banding movement which is rare in someone so young.
"Lucy is a fantastic player for her young age and will no doubt have an amazing future ahead of her. She has impressed all of us with her attitude and work ethic and will definitely be one to watch in the future." – Kirsty Abbotts
Lucy started playing in school aged 7 but found her feet in the brass banding world when she joined the Chapeltown Silver Band aged only 10. Here she worked her way through the cornet ranks until holding the position of Assistant Principal Cornet where she competed at two National Finals. Recently Lucy has held the Principal Cornet position with the Strata Band, leading them at the National Finals, Yorkshire Area Championship Section and the Spring Festival. She is also a member of the National Children's Band and the National Youth Band of Great Britain.
"I am really excited to become part of such a fantastic band. I have enjoyed helping them out recently. I'm delighted to have been asked to become a full time member and to have the opportunity to play alongside such great players. I would like to thank Strata and Jonny Bates for giving me the opportunity to sit Principal and for all his help with my development as a player over the past year." – Lucy Heeley
Lucy's debut as a member of the band will be at The Crossing in Worksop on the 20th July.
http://www.carltonmain.co.uk/events-list/
Back to news